Sustainable Manufacturing: Exploring the What and How of Making Manufacturing Green
16 May 2023
9 minute read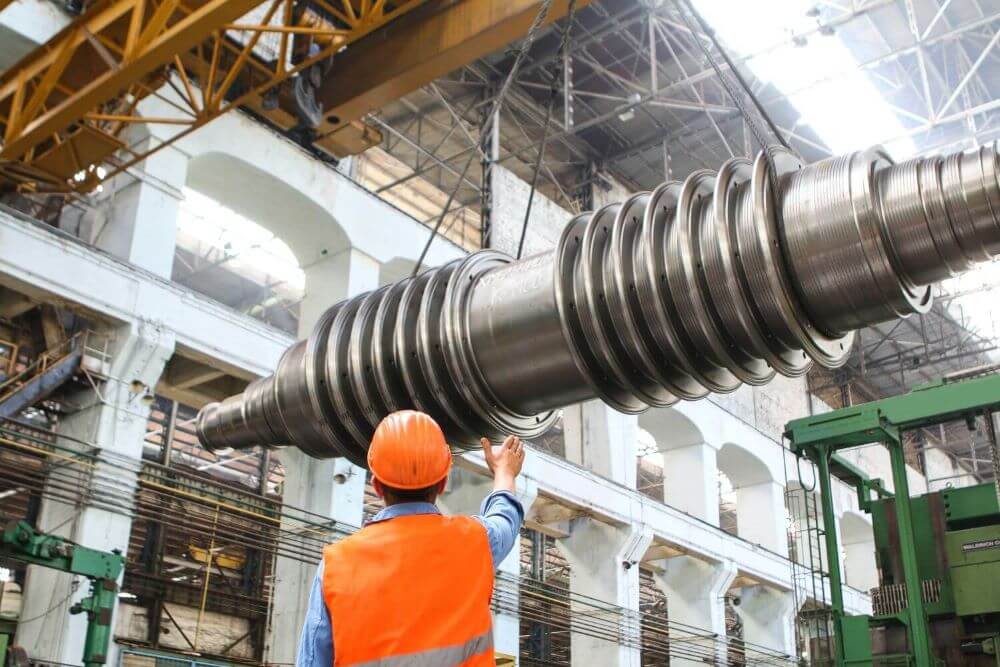 It's surprising that the industrial sector in the US emitted more greenhouse gases (GHGs) than all road-driven vehicles in 2021. The industry was responsible for a massive 23% of all GHG emissions, while vehicles only accounted for 14%. It's a real eye-opener that reminds us of the enormous impact that industrial activities have on our planet.
Fortunately, the times are changing and more and more manufacturing companies are switching to sustainable practices, commonly termed sustainable manufacturing. Positive green legislation and changing consumer behaviour are creating a market for cleaner and more environmentally friendly products, making sustainability a win-win for all - people, the planet and the business.
In this post, we've had a look at what sustainable manufacturing is, what its dimensions are, what it includes and how to do it. Let's begin!
What is Sustainable Manufacturing?
According to the US Department of Commerce, sustainable manufacturing is:
"The creation of manufactured products that use processes that minimize negative environmental impacts, conserve energy and natural resources, are safe for employees, communities, and consumers and are economically sound,"
In simple terms, sustainable manufacturing, or green manufacturing, is the manufacturing procedure focused on the creation of products that are economically sound with minimal human and environmental impacts.
The main principles of sustainable manufacturing include energy conservation, less natural resource usage, employee and community enhancement, and product safety throughout the manufacturing process.
The major benefits of sustainable manufacturing include:
Lowers natural resources and energy use
Employs renewable resources
Produces the lowest quantity of waste possible
Enhances operational safety
Improves product and process quality while reducing cost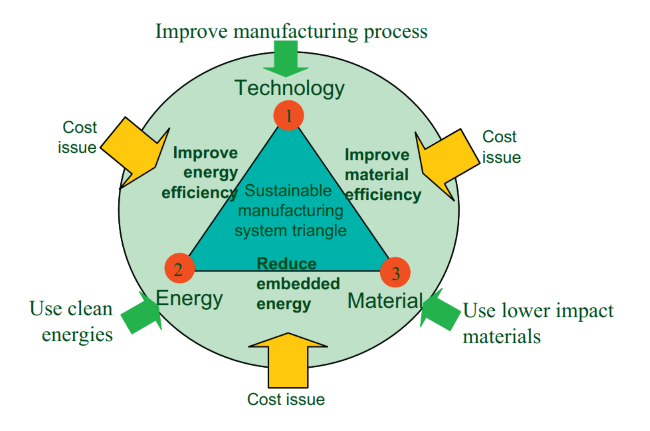 Image via Yuan, Zhai and Dornfield (2012)
What are the Three Dimensions of Sustainable Manufacturing?
The three dimensions of sustainable manufacturing are based on the three pillars of sustainability. Essentially, they are the three pillars of sustainability adapted to manufacturing terms.
Sometimes, they are referred to as the triple bottom line of manufacturing and involve three Ps: people, planet and profit. People correspond to society, the planet to the environment and profit to the economic pillar of sustainability.
Let's look at each of them in detail:
Environment
The environmental dimension of sustainable manufacturing means that a company should consider the environment at every manufacturing stage.
This doesn't mean environmental considerations just within the manufacturing unit or the factory's walls. It is a broad process and entails all the steps starting from raw materials sourcing to end-of-life considerations, including transportation.
This may also include addressing Scope 3 emissions, which are the indirect emissions produced as a result of a company's activities but are not generated from the assets owned or controlled by it.
Economy
The economic dimension of sustainable manufacturing entails that a company should be economically sound. This means it should make a profit so that it grows and stays in business.
The major purpose of adding profit into the mix is to counter the idea that focusing on financial gains is greedy. It stems from the belief that a company can't invest in its human resources, process improvement or environmental remediation and restoration unless it has enough assets and profit.
Society
The third dimension of sustainable manufacturing is the social dimension, which encompasses both the well-being of a company's own employees and the impact of its activities on the wider community. This includes the communities it serves, interacts with, or aims to improve.
Some common examples in this dimension include:
Fair wages
Improved employee benefits, such as higher education opportunities and family benefits
Ensuring gender equality and diversity and inclusion
Making sure child labour is not involved throughout the supply chain
Improved health and safety protocols
Fundraising and scholarships
Investment in local communities
What Does Sustainable Manufacturing Include?
Sustainable manufacturing is a broad space and includes anything and everything that could help make the manufacturing and production procedure as environmental-friendly as possible. Let's look at some of the main objectives:
Avoiding causing damage to the local environment including flora, fauna and their habitats
Implementing clean production practices to ensure minimal waste and pollution
Ensuring minimal use of non-renewable natural resources such as water.
Switching conventional energy methods with renewable sources such as wind and solar power
Implementing stringent health and safety protocols
Reducing transportation in the supply chain
Collaborating with environmentally-conscious stakeholders
5 Ways to Do Sustainable Manufacturing
Sustainable manufacturing has an equal emphasis on the planet, people and profit. Keeping this in mind, making products that last doesn't just save the earth, it's good business sense. Let's look at 5 ways in which your company can achieve this:
Digitisation and Digitalisation
Digitisation involves the conversion of analogue information into a digital form, such as scanning a document. On the other hand, digitalisation is the process of embracing digital technologies to revolutionise the existing manual procedures. The major goals of both these practices are to maximise the accessibility and integration of data while reducing waste, time and cost.
Together, digitisation and digitalisation are the backbone of sustainable manufacturing. Here's why:
Digital systems and documents reduce carbon emissions through lower paper usage and transportation.
The digitalisation of the manufacturing process improves resource and supply chain efficiency and transparency as you know what's going where and how. This not only reduces waste and fraud but also helps with identifying improvement areas.
Having all the systems digital allows for better data gathering and analysis, leading to improved manufacturing and production performance.
Digitisation and digitalisation improve communication between different company departments and stakeholders, which eventually leads to efficient manufacturing due to the instant identification and communication of bottlenecks and opportunities.
iWarranty is an excellent example in this regard. We bridge the warranty gap between manufacturers and consumers to reduce paper and electronic waste through our digital warranty management platform equipped with a state of the art software for the manufacturer's warranty team and an app for the consumers.
The platform provides a one-on-one conversation facility between the consumers and the manufacturer's warranty team for instant problem resolution, automates claim management and collects detailed warranty cost and product defect data and analytics to provide new insights into product performance for future research and development.
Smart Systems
Smart systems are systems that leverage the power of sensing, actuation, signal processing and control all at once to develop a smart environment capable of making intelligent decisions on its own for the benefit of its users.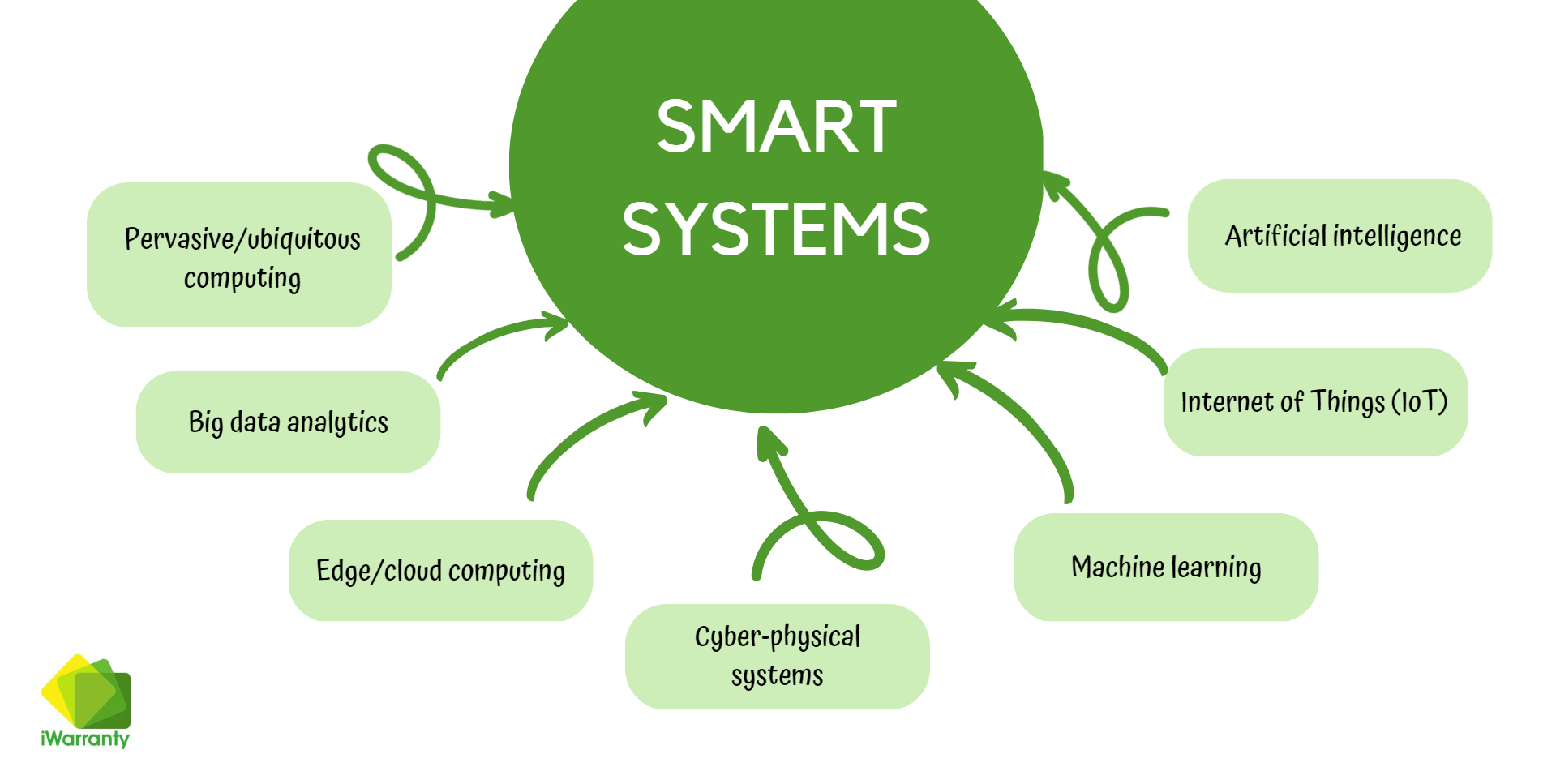 Let's take the example of a smart home system. It uses sensors to sense who walked into a room and automatically adjusts the temperature, lighting and other conditions based on their preferences.
Employing such systems in a manufacturing or production scenario gives rise to a new term, smart manufacturing or SM. The major aims are to enhance efficiency, reduce production bottlenecks and increase the manufacturing capacity without compromising on cost or the planet.
In order to better understand the technology implementation, let's have a look at Schneider Electric's le Vaudreuil facility in France. It utilises EcoStruxure™ Augmented Operator, an augmented reality mechanism to enhance operation and maintenance. It allows the production facility operators to overlay real-time data and virtual objects onto physical assets.
Predictive Analytics
As the name suggests, predictive analytics involves predictions of future trends and events based on historical data to assist in making intelligent decisions. It could be either done manually or through machine learning algorithms.
One of the most common examples of predictive analytics in manufacturing is predictive maintenance. It is a process of predicting precise manufacturing equipment maintenance timings to avoid plant shutdown, reduce downtime, improve safety and increase machinery longevity.
To understand this further let's analyse the use case scenario of predictive analytics for toner cartridge filling at Ricoh Products Ltd. The toner cartridge filling procedure is rather tricky as it involves two stages: fast-fill (for a fixed time) and slow-fill (for a variable time depending on when the fill weight is reached). After the toner is filled, the system shuts down. Predicting the exact moment when it shuts down is crucial to avoid wastage due to spilling or rejection due to underfilling.
Ricoh's team solved this issue by employing machine learning to predict the best possible system shutdown time, leading to an annual cost saving of £300,000 by avoiding resource wastage in case of over or underfilling.
Automation
Automation, or in manufacturing terminology, industrial automation, is the process of automating procedures to minimise manual input through technology. Some common examples of automation include robotics, programmable logic controllers (PLCs), machine vision systems, automated guided vehicles (AGVs), collaborative robots or cobots and industrial Internet of Things (IIoT).
Automation is playing a crucial role in revolutionising the manufacturing and production sector. Here's how:
Automation enhances productivity by saving employees from doing mundane tasks. Statistics show that 66% of knowledge workers enjoy higher productivity thanks to automation.
Automation reduces error rates, leading to higher product quality and lower waste. Companies can even run automated testing, which worked in improving product quality for 55% of them.
Incorporating automation in manufacturing processes has a positive impact on corporate carbon footprint as it reduces energy consumption, enhances process efficiency, lowers waste and improves product quality.
Automation significantly reduces manual work in hazardous situations which in turn improves organisational health and safety. For example, you can send a robot to do the heavy lifting in material handling rather than compromising a human's musculoskeletal structure.
Circular Manufacturing
Circular manufacturing is a production and consumption model focused on creating a closed-loop system. This means it employs reuse, recycle, repair and repurpose principles to keep the resources within the loop rather than discarding them after a single use.
It challenges manufacturers to design, produce and ship products in such a way that they stay within the economy as opposed to the conventional linear method of take, make and waste. Circular manufacturing is derived from the circular economy and has similar aims and goals, which include:
Design to reuse, repair, repurpose and recycle
Using sustainable materials that are recycled, renewable, biodegradable or recyclable
Minimum waste during the supply chain
Minimise waste and reuse materials with the lowest possible energy consumption in production
Reduce energy usage
All in all, sustainable manufacturing isn't just a buzzword, it's one of the crucial aspects to ensuring the earth stays habitable for us and the upcoming generations. It calls for a balance between people, the planet and profit, so it's a win-win for us all, be it the consumers, the manufacturers or the environment.
Fortunately, we don't necessarily need to reinvent the wheel to start the journey. By doing something as simple and intelligent as digitising warranties, we could save tens of thousands of carbon emissions. So let's commit to doing our part, and together, we can create a better world today and tomorrow!

iWarranty
An award-winning SaaS platform and intelligent warranty software for manufacturers and retailers to deliver a superior, more sustainable post-purchase customer experience, simplifying in-and-out-of warranty repairs.