Reducing Your Carbon Footprint: 5 Ways Sustainable Manufacturing Benefits the Environment
1 June 2023
9 minute read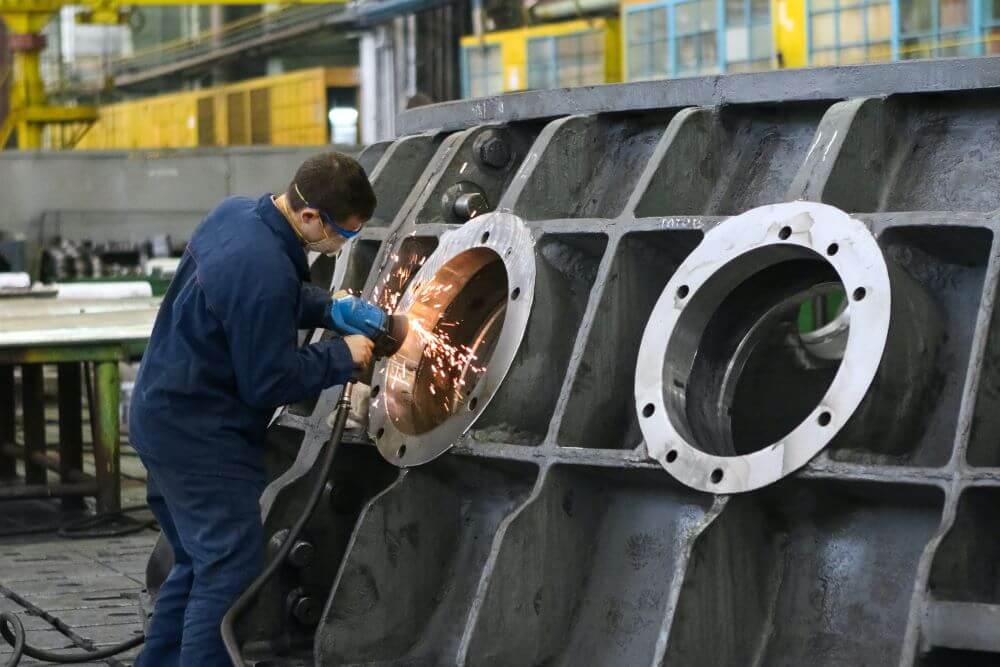 In the EU alone, the manufacturing sector produces an annual total of 880 million tons of CO2e. As the continent strives to achieve its ambitious goal of becoming climate-neutral by 2050, it is crucial for European manufacturers to prioritise sustainable practices and reduce their carbon footprint.
With the advancement of technology, it has become increasingly possible for manufacturers to lower their environmental impact. The process employed to achieve this is termed sustainable manufacturing, which not only reduces the carbon footprint associated with the manufacturing process but also lowers costs and increases revenue by tapping into the emerging sustainable consumer marketplace.
In this post, we've shared 5 ways in which sustainable manufacturing helps you lower your organisation's environmental impact, including addressing specific technological advancements.
Lowers Energy Usage
Currently, the manufacturing industry consumes approximately one-third of the world's energy. By implementing digital technological solutions, such as predictive analytics, manufacturers can avoid equipment wear and tear, reducing energy consumption. In addition, having advanced data helps understand the inefficiencies in the production process, which can then be improved to lower energy use.
Reduces Waste Production and Promotes Recycling
Sustainable manufacturing can play a significant role in reducing waste production by optimising production processes, reducing resource consumption, recycling and promoting the efficient use of materials. Here's how:
By implementing digitisation and digitalisation techniques, companies get in-depth insights into their production facilities, making it easier for them to identify production patterns and predict how they can be enhanced to accelerate the process, leading to lower energy, water and other resource consumption.
Adopting close-loop manufacturing involves designing products and production processes in a way that enables the recovery and reintroduction of materials back into the production cycle. Furthermore, it has a feedback loop which involves feeding the data collected during product performance back into the production cycle. This feedback loop enables organisations to gain insights and make improvements based on real-time information.
By designing for disassembly, companies can extend the recyclability of their products. This also increases the repairability as the replacement of different parts becomes easier, reducing the chances of the product being landfilled before the end of its useful life.
Sustainable manufacturing often involves the usage of recyclable materials, which diverts waste from landfills and reduces the need for extracting and processing virgin resources.
Sustainable manufacturing through predictive analytics helps ensure the exact required amount of material used or filled leading to reduced waste. For instance, Ricoh Products Ltd used this technology for toner cartridge filling to avoid spilling or rejection due to underfilling, leading to an annual cost saving of £300,000.
Reducing Waste Production and Advancing Sustainable Manufacturing through Digital Warranties
Efficient warranty management is crucial to reducing waste post-sales. In addition to this, having an advanced warranty data and analytics mechanism in place could cover silos in closed-loop quality and feedback.
Having a weak warranty management system, generally paper-based and high-touch, contributes to e-waste due to pre-mature product replacement. To put this in context, the EU annually generates up to 261 million tons of greenhouse gas emissions by discarding devices that still have life in them.
Through the digitisation and digitalisation of warranties, you can contribute to reducing e-waste by supporting repair over replacement, increasing product longevity, promoting a circular economy by keeping the device in the loop instead of it going to the landfill and improving product quality in the long run by leveraging the data collected through warranty data and analytics.
Sustainable Materials
One of the crucial factors of sustainable manufacturing is developing sustainable or less-carbon-intensive materials. Here's how they reduce carbon emissions:
Sustainable materials have lower embodied carbon, which is the carbon associated with their production and transportation.
They are energy efficient, and an excellent example of this is the use of erosion-resistant nanocoating in gas turbine engines. This coating helps reduce engine degradation caused by friction, thereby eliminating the issue of higher fuel consumption.
Sustainable materials are recycled, renewable or recyclable, such as recycled plastics, bamboo and glass. As a result, manufacturers can reduce the demand for virgin resources and the energy-intensive processes associated with their extraction and production.
Creates Circular Economy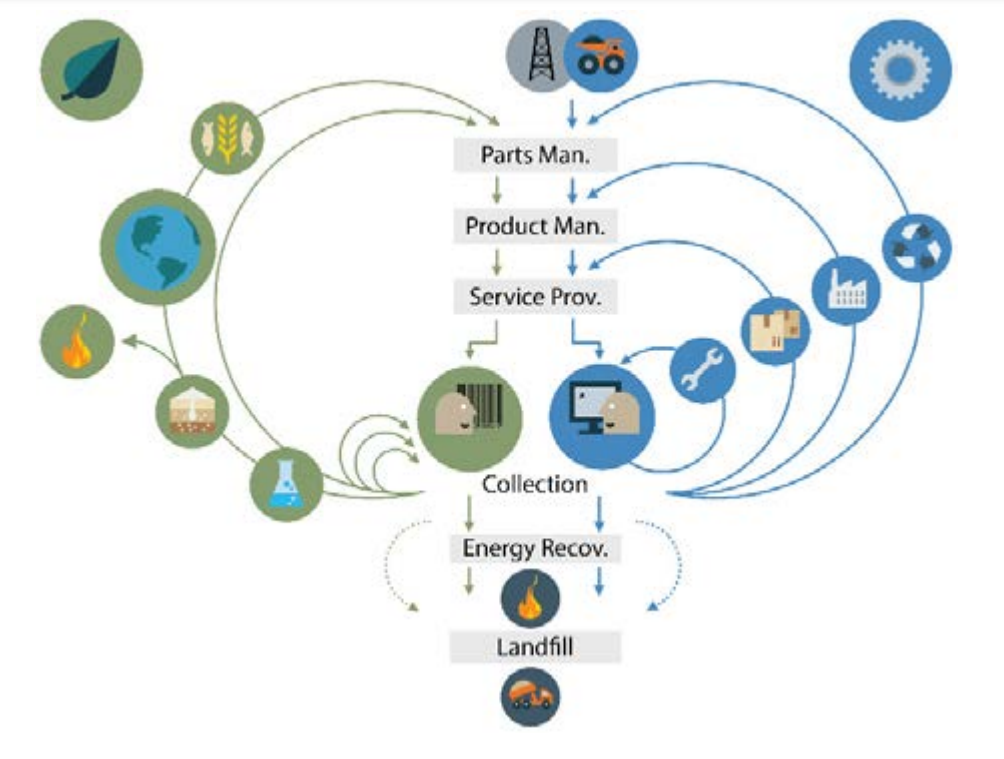 The Circular Economy 'butterfly' diagram | Image via Science Direct
Sustainable manufacturing and circular economy (CE) are closely related to each other and require consideration of the following four Rs:
Product Lifecycle Management for Sustainability
As the competitive pressure increases, companies' approach to product development changes. An unfortunate side effect is shorter product lifecycles, increased variety and the push for lower production costs. Product lifecycle management or PLM emerged as an answer, a philosophy which is:
"A product-centric business model, information and communication technology (ICT) supported, in which product data, are shared among processes and organisation in the different phases of the product lifecycle for achieving top range performances for the product and related services."

Product lifecycle phases | Image via Core
A few technological themes covering various product lifecycle management stages to enhance their environmental sustainability:
Life Cycle Assessment (LCA): LCA involves evaluating the environmental footprint of a product throughout its entire lifecycle, including the extraction of raw materials, manufacturing, distribution, use and disposal. LCA helps identify areas for improvement and enables decision-making based on sustainability criteria through comparative analysis with previous, similar and competitive products.
Absolute Environmental Sustainability Assessment (AESE): AESE brings together the concept of LCA and Planetary Boundaries (PB), which are the bio-physical limits of Earth within which humanity can safely operate to maintain a stable and resilient planet. It is the evaluation of the environmental emissions of a product through LCA to gauge if they are within the PB. This concept is still in its infancy and requires further research to establish quantitative limits for individual products.
Digital Twin and Digital Thread: Digital twin is the development of a physical object in a virtual space to simulate and monitor its performance, identifying areas for efficiency improvements and waste reduction. A digital thread is a communication framework linking traditionally isolated elements within manufacturing processes, and facilitating an integrated perspective of an asset across its entire lifecycle in manufacturing. Together, these technologies enhance resource utilisation, minimise waste, and enable proactive sustainability measures in manufacturing processes.
Internet of Things (IoT): IoT refers to physical products embedded with technologies such as sensors and software to connect and exchange data with other devices and systems over the internet. These smart devices, whether they are in the manufacturing units or are the end product, identify inefficiencies, quantify resource consumption and record performance data, which can then be used to minimise environmental impact and enhance product design.
Embracing Sustainable Manufacturing Through iWarranty
If you are a manufacturer, searching for simple and efficient sustainable manufacturing techniques, then look no further than digital warranty management. We, at iWarranty, take pride in digitising warranties through our integrated warranty management software and consumer app to support manufacturers, retailers and customers in providing and using warranty rights and reducing e-waste. Here's how:
Instant product and warranty registration through a QR code scan on our consumer app.
Easy and instant warranty claim registration anytime and anywhere through a few taps on the phone.
Automated claim verification against the warranty registration data to avoid fraudulent claims.
Integrated communication, allowing direct sending and receiving of warranty and repair updates on both the warranty team and the customer's end.
Advanced data collection and analytics to reduce warranty costs in the future by improving product quality.
A one-on-one communication channel between repairers, the warranty team and the customers.
To learn more, reach out to us by filling out the form below.
Tell us how we can help
Whether you have a question about features, price, need a demo, or anything else, our team is ready to answer all your questions

iWarranty
An award-winning SaaS platform and intelligent warranty software for manufacturers and retailers to deliver a superior, more sustainable post-purchase customer experience, simplifying in-and-out-of warranty repairs.